If you are a responsible owner, you know how important it is to groom your pet's nails, but does your pet get terrified every time you go for his/her nail care or whip out those nail clippers?
⛔ 90% of pet owners injure their pet's trying to use regular dog nail clippers and other pet nail clippers because they won't sit still.
💸 Groomers get the job done, but going every month can be VERY expensive.
What if your pet let you trim their nails?
Our Electric Pet Nail Trimmer makes sure you & your fur baby won't have to worry about these issues. Trim your pet's nails with ease, precision, and a super comfortable grooming experience all in the comfort of your home.
FEATURES:
ULTRA-QUIET LOW VIBRATION
The sound is capped at 50dB, which is a light hum. Superior motor with whisper-quiet technology that produces a very low vibration to keep pets calm and trims their claws faster and easier. Your pet won't even realize their nails are being trimmed.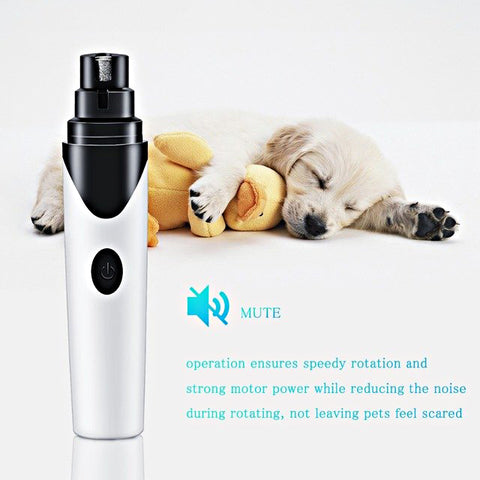 ERGONOMIC DESIGN
No more running after your pets to cut and trim their nails! Electric Pet Nail Trimmer features a cordless design that comfortably fits into your hands for easy usage.
EASY TO CLEAN
To clean your trimmer, just use a towel or tissue and gently brush away any nail dust on the removable grinder top, super quick & mess-free.
SUITABLE FOR ALL PETS
Our painless nail trimmer is suitable for dogs of all sizes, cats, rabbits, guinea pigs, hamsters, and birds. It is made with three different sized openings for different size nails. Simply choose the opening that works best for your pet's nail size and start the magic.
BENEFITS:
BUILDS TRUST WITH YOUR DOG
There's a reason your dog doesn't let you touch their nails 👉 they're nervous & it hurts!
PAYS FOR ITSELF IN 2 USES
Your pet and dog nail trimmer will pay for itself within the first two uses. Save yourself a trip to the groomers/vet and safely trim those claws yourself!
SAVES SO MUCH TIME
You won't have to struggle with trying to cut your pet's nails or driving them to the vet. You can now quickly & comfortably trim their nails at home and save all that wasted time!
Never worry about hurting your baby's nails again 🐶😸
STEP BY STEP GUIDE:
Step 1: Based on the size and nail shape of your pet, choose the proper nail trimmer opening. The bigger the nail, the bigger the opening you can use. Refer to our sizing chart below.
Step 2: Let your pet sniff the trimmer once while it's off, then again while it's on. Giving them a treat while doing this helps them associate positive emotions while around the trimmer.
Step 3: Once they're curiosity has subsided, gently pick your pet's paws up and begin trimming. The trimmer is equipped with low vibration and a quiet yet powerful motor that makes nail care a hassle-free and comfortable experience for you and your beloved pet.
Step 4: Once all the trimming is complete, gently clean the trimmer's wheel with a cloth to remove any excess nail powder.
SPECIFICATIONS:
Charge time: 2 hours
Run time: Up to 4 hours
Charging mode: USB charging
Battery: Built-in battery
PACKAGE INCLUDES
1x Electric Pet Nail Trimmer
1x USB Cable
1x User Manual