Say goodbye to the trouble of dirty and messy after peeling with a traditional paring knife.
With a storage box design, the peeled fruit and vegetable skins can be stored in the storage box, and one-piece will not fall on the ground.
Storage Peeler:?This peeler can store the peeled peel directly in the container, avoiding the peel from falling on the ground
Multifunction Peeler:?Standard vegetable peeler for peeling hard skin veggies and fruit easily; ideal for salads, pasta garnishes, etc?
Premium Quality:?Peelers are constructed with a stainless steel blade and premium ABS handle, which enable them to handle bumps and curves with ease without clogging issues.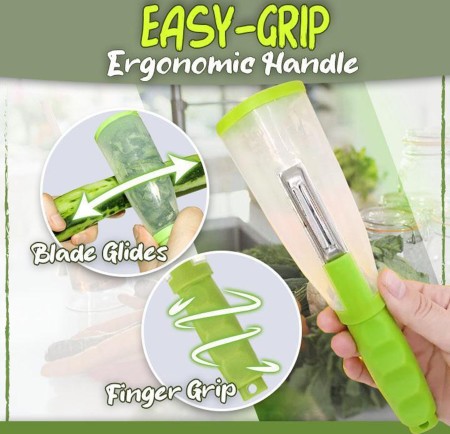 Ergonomic Design:??The handle of Peelers for Kitchen is designed for a comfortable and non-slip grip, even when wet.
Easy To Carry:? The slim figure for easy carry. For your family to enjoy fruit Anytime and anywhere. Great gifts for family, friends, and co-workers!