🔪Protect Your Fingers From Sharp Knives When Preparing Food!🥑


When cutting and preparing food in the kitchen you may sometimes can't avoid cutting your fingers too, but now, this item could help you keep safe. This Knife Cut Slice Safe Guard is made of high-quality stainless-steel that will keep your hands and fingers guarded. Now, no more worrying of having unsafe food preparations.

Easy to use and very lightweight, this hand and finger protector is a must-have for every kitchen. Either you're a professional or a beginner at cooking, you'll surely need this. Perfect for everyday use! This can be adjusted according to your fingers and it's so durable and sturdy that any knives won't get through it.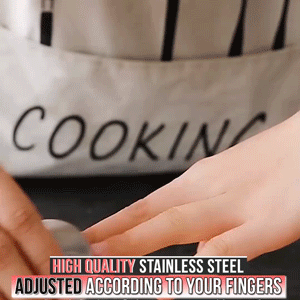 HIGLIGHTS:
Safe and easy to use – This finger guard is safe and easy to use. Just insert it on your finger and you're good to go!

Made of high-quality stainless steel

– Won't easily rust, tarnish, or corrode. Washable and reusable.

Lightweight

– your fingers don't feel any load when used. At the same time, you can maintain a stable and proper cutting position.
Great for beginners or professional cooks – Whether you're a professional cook or a beginner, you'll surely need this to protect you from any injuries.
Durable and study – Sharp knives won't easily cut through it. Perfect protection for your everyday cooking!
Comfortable design – With its adjustable ring, you can enjoy preparing and cooking food without the hassle and loaded feeling on your finger.

SPECIFICATIONS:
Material: Stainless Steel
Color: Silver
Size: 6.5 x 4.8 x 2 cm 
PRODUCT INCLUDED:
1 x Knife Cut Slice Safe Guard