😍Automatic Watering Spike, Enjoy your vacation! 😍

💦Product description:
Are you wondering who will water your plants while you're away on vacation? 
With it, you can go relax without having to worry about your plants.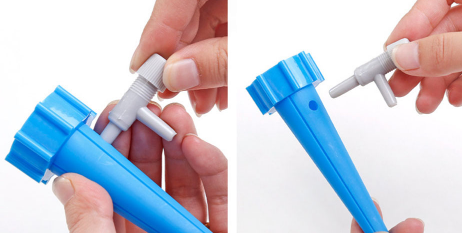 Use the product to control the water flow. Place the plastic part inside the soil and place full bottle of water onto the plastic part. Use the regulating valve to control the amount of water that goes to the soil.
You can use the control system even when you are on vacation, just put the right bottle and regulate the flow, and you can leave your plants without worrying. It can release the right amount of water for up to fifteen days, and it is super easy to use.
💦Features: 
- Using an automatic watering system ensures your plants grow greener and more lush 
- Plant water-er is helpful for planting scientifically and it ensures plants healthy 
- The drip speed of the vacation drip irrigation watering devices is adjustable with the control valve 
- It's easy to install the plant watering globes in minutes and don't need other tools 
- These irrigation spikes can recycle your plastic bottles, which is eco-friendly 
- Plant watering spikes are compatible with the most bottles with the 1.1 inch inner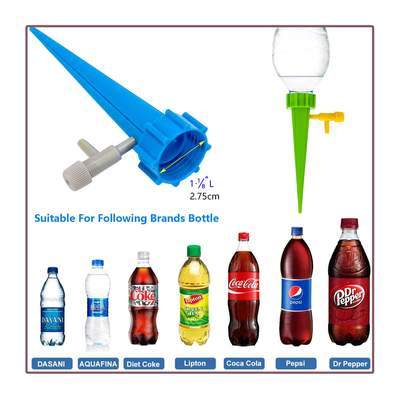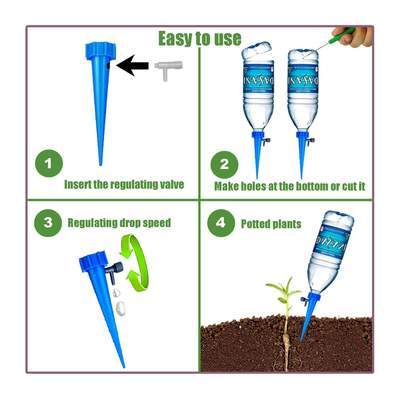 💦How To Use: 
1) Insert the control valve into the Waterer. 
2) Take a Plastic bottle of 1.1 inch and fill it with water. 
3) Install the plant waterer to the filled bottle. 
4) Flip over the bottle and place it stake first into the soil. 
💦Package List: 
6/10/15*Spikes 
6/10/15*valves 
1*Manual
💦Specifications:
Color: Blue, Green
Capacity: 0.75L-2L
Size: 13.5x3.5 cm